Squad News for Shaw Park Tennis Players
I hope that the recent holidays were good to you all and that you are looking forward to another solid term.
Term 3 was very successful and we want to make this term bigger and better. We had some great tournament results along with a strong and successful representation at the recent Super 10s competition.
The development of good habits will be a strong focus again this term and the following points are vital to achieving on and off court success.
Preparation before a training session and or match
On court work ethic
Taking ownership of their game
With that in mind there are a few things that will help us to help them:
Encourage your children to pack and prepare their own equipment in advance of the session.
Be early for the session. Squads start promptly at 4.30 and 6.00pm. Please notify us if you are going to be absent.
All players should be attending the physical/agility sessions. This session is designed to improve all of the players' footwork and agility along with their speed and balance.A vital aspect in any athletes development. 
The agility sessions take place on Wednesdays 4.00-4.30 for Development and 5.30-6.00 for Performance squad.
Please attend the days you nominated at the beginning of the term.Sessions are planned based on numbers and levels. If you wish to change days then please contact Damien or Glenn.  We want to be as flexible as possible but players who attend squad on a different day to the one they nominated, causes disruption both to the numbers and quality of the session for everybody. We also need to know in case another coach is required.
The expectation is that all players come prepared to give 100% regardless of which court they are on and who they are hitting with. Good attitudes along with the players taking ownership of their tennis helps create quality people on and off the court.
Squad Session Outline
The term will be broken up into 3 segments which leads the players into the Junior State Age (Rocky/Bundy) holiday tournaments.
Preparation, Pre Competition and Competition phases. Each section carries drills and training concepts that gives the players a greater opportunity to fulfill their personal and tournament goals.
Focus points for the term will be:
Continued rotation of players to ensure variety and quality
Increased focus on Serve and Return patterns
Further development of movement and balance
Understanding individual game styles to best utilise their skills
Create a better understanding of trends in a match and how to utilise this information
Squad Make Up Days
The following dates will be used for any missed sessions. A reminder will be sent out in the week leading into these dates.Sessions will run from 3.00 – 5.00 pm
Sunday  November 5

(Week 5)

Sunday December 3

(Week 9)
Alternative Squad Sessions – RAIN
We've had a wet start to Term 4.  In the event of rain interrupting our 4.30 and 6pm squads we will run alternative sessions for the players which will include some footwork and agility drills and an off court session.  We will make sure your children are occupied for the duration of the squad time.
In the event rain has cancelled all tennis for the afternoon, we will organise an alternative session for 6 pm squad players only.  This will include:
Session 1 | Term Goal Setting
Session 2 | Tactical Session: Charting a match
Kids watch a 15 minute set play video and we explain the charting and then discuss afterwards.
Session 3 | Importance of Physical and Mental Training in Tennis
Session 4 | Technical Session: 
We will use video of our squad players on the TA app and review this as a group.
Session 5 | Mental Skills Session
We will aim to make a decision as early as possible and please note any rain updates will be made via our facebook page and email.
Queens Birthday Squad Session
This year the Queens Birthday Holiday fell on the first Monday of the term. We tried to get this done on the day however the rain got the better of us. We will have this squad on at 3.30-5.00 Sunday 22 October. All you need to do is let me know via email or text so that I can book courts and adequate coaches.
Junior Club Championships
We've had a great entry for our Junior Club Championships this year. Over 150 entries which is our highest entry ever.
Unfortunately the heavy rain this weekend left us with no choice but to postpone the event.  Please see below the new dates for the event.  We have had some withdrawals, so if you would like to enter please call your centre.
Sunday 22 October
Red Ball Comp.  Ages 5 – 8 years
8.45am Check In for a 9.00am start.
Orange Ball Comp,  Ages 7 – 9 years
10.45am Check In for a 11.00am start
Sunday 12 November
Green Ball Comp.  Ages 9+ years
8.45am Check In for a 9.00am start.
Yellow Development Comp.
10.30pm Check In for a 11.00am start
Junior Open Comp.
12.30pm Check In for a 1.00pm start
Tournaments
Over the September holidays the Shaw Park Tennis Team ventured north to compete in the Qld State Age at Rockhampton followed by the Bundaberg Jnr Champs. It was a successful trip with all players getting a lot of vital match play along the way and having great fun as a group.  Big thanks to the parents Peter and Simone Waugh, Jill James and Anna Klatt for volunteering their time to help with the trip. Iit would be impossible to do it without you!
Another very big thank you goes out to the Shaw Park Club committee Peter Waugh and Jill James for their help raising money to support our players and providing a $100 discount to all participants on the trip.
Please see some photos from the trip below and for a full view of the trip please click here: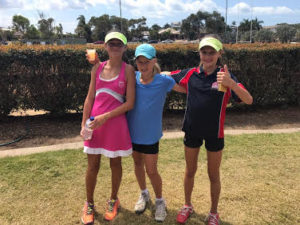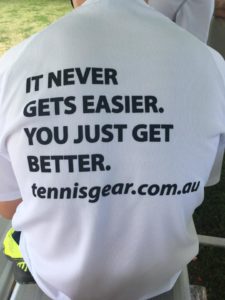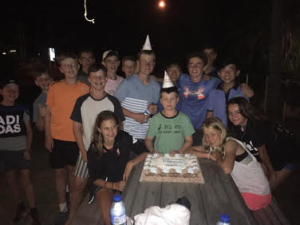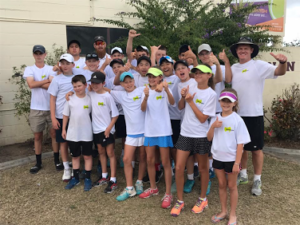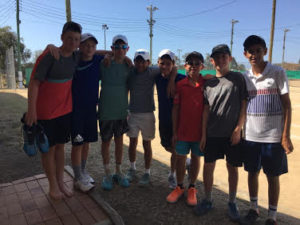 Regards,
Damien
Coach and Development Manager