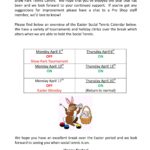 Due to Shaw Park being host to a number of tournaments and Holiday Clinics over the Easter period there have been some slight changes to our Social Tennis calendar.
Monday 3rd morning social will not be running. The Monday evening social will run without the hour of coaching.
Thursday 6th will run as normal
Monday 10th morning social will run as normal and evening social will be run without the hour of coaching.
Monday 17th there is no social
Thursday 19th all social tennis will return to normal.
For any more information please contact the Pro Shop on 3266 1660 or email shawpark@tennisgear.com.au
Have a great Easter!