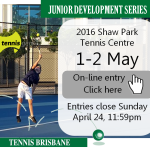 Junior Development Series 2016
Shaw Park to host the next tournament.

May 1 & 2

.
May is just around the corner and what better way to welcome the new month than with another
JDS
event.
Shaw Park Tennis Centre
will be playing host to the tournament which promises to be another showcase of young local tennis talent! 
On-line entry
is now open for all events catering to juniors from Orange Ball Hot Shots right through to 17 years.
The Junior Development Series is a group of tournaments for beginner to intermediate players. If you are playing regular fixture tennis then the Junior Development Series is for you. The JDS sits under the Optus Junior Tour in the competition pathway and is designed to give players valuable tournament experience.
The tournament will run on May 1st and 2nd, 2016. For more information, and all tournament enquiries, please contact the tournament director Ash Playford by email at tournaments@tennisgear.com.au.
Entries will close this SUNDAY, April 24 at 11:59PM
EVENT LIST
Orange Ball Hot Shots Mixed
Green Ball Hot Shots Mixed

11 & U Singles Mixed

11 & U Doubles Mixed

13 & U Boys Singles
13 & U Boys Doubles
13 & U Girls Singles
13 & U Girls Doubles
15 & U Boys Doubles
15 & U Boys Singles
15 & U Girls Singles
15 & U Girls Doubles
17 & U Boys Singles
17 & U Boys Doubles
17 & U Girls Singles
17 & U Girls Doubles