Development and Performance Squads (12+ yrs)
Tennis Gear offers a host of Squad Programs and Performance Packages at the Shaw Park Tennis Centre. Our experienced and dedicated coaching team is lead by our Coach and Development Manager, Damien Roberts and we have designed programs that are aimed toward students looking to get more out their game. All of our squad training and packages offer each player more time on court, a good coach to student ratio and are designed for more committed players who are looking to maximise their potential and compete at a higher level.
All squad lessons are 90 mins in duration for our Talent Development and High Performance sessions.  We also offer a 30 min Footwork and Agility component for all of our Talent Development and High Performance squads. Player Development Packages are also available for players looking to maximise their court time, development and results.
For more information regarding all of the squad programs and packages below please contact the Shaw Park Tennis Centre on 07 3266 1660 or to enrol into one of our Development Squads simply click the link below.

Tennis Gear currently offer the following options for Squad Players.
Development Squads (12+ yrs)
TennisGear Development squads are ideally suited to those players who are serious about maximising their potential. The TennisGear Development pathway is an ideal compliment to any player currently playing Super League, looking to make school teams or who are looking to start playing tournaments.
Super 10's and Performance Squads (8+yrs)
TennisGear Super 10's and Performance squads are ideally suited to players who are looking to regularly compete in tournaments to achieve high State and National Rankings. TennisGear performance players are ranked amongst the top players for their age in both Qld and Australia and many go on to have successful tournament and US College Tennis careers.
Tennis gear currently offer the following Squad Packages.
TennisGear squad packages are ideal for players who are serious about improving their games. Squad Packages allow players to attend multiple squad sessions, a fitness session and a private lesson each week at discounted prices.
Orange and Green Hot Shots Package (8-12yrs)
Talent Development and Performance Package (8+ yrs)
If you are interested in anymore information about any of our Squad packages, or looking to sign up for a package please contact the centre on (07) 3266 1660. Alternatively you can enrol into one of our excellent Development Squads by following the link above.
Further information about our coaching program and memberships can be found by visiting our FAQ page.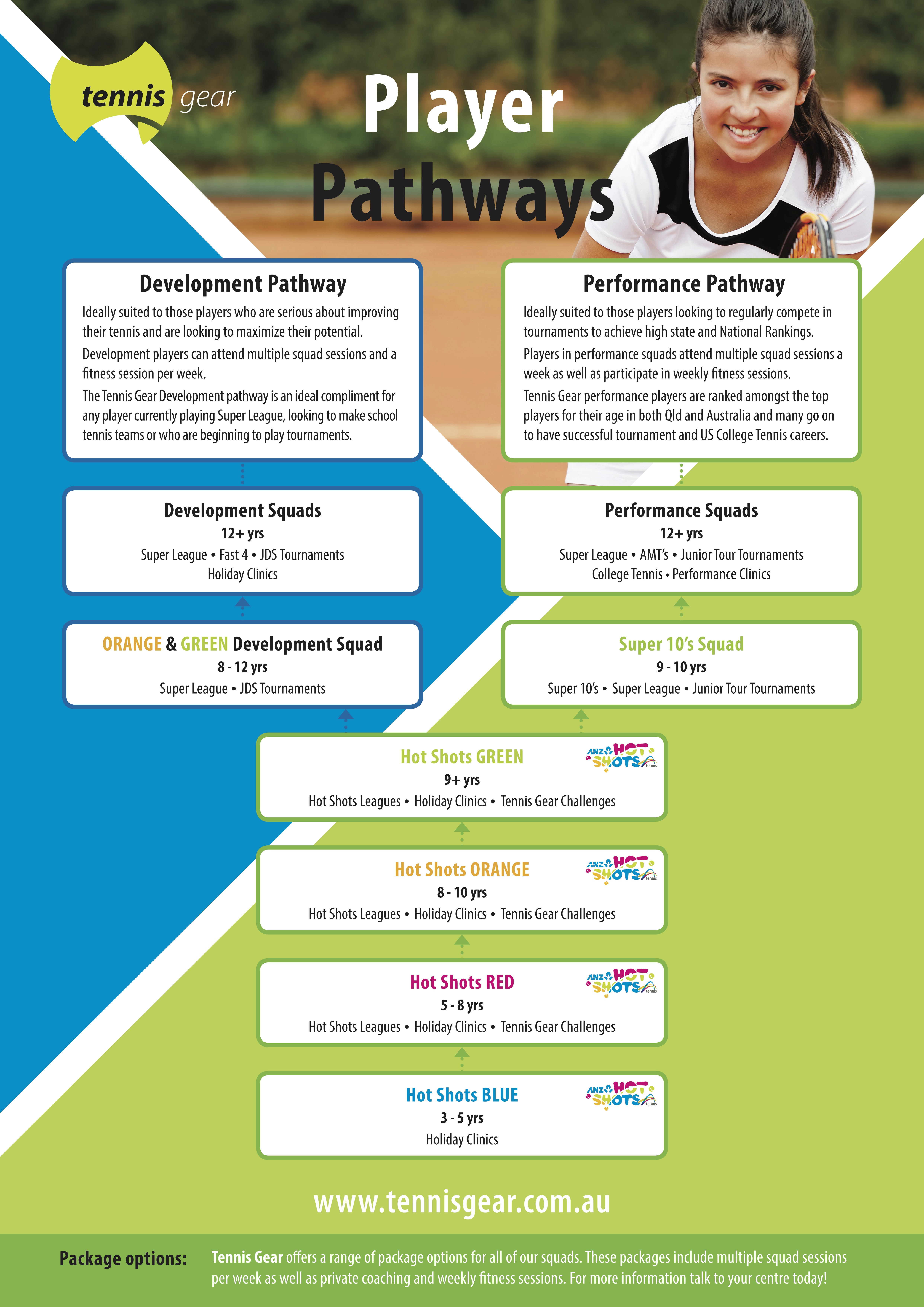 Coach and Development Manager – Damien Roberts
We're thrilled to introduce Damien Roberts to the Tennis Gear team as our Coach and Development Manager. Damien joins us from the UK where he has worked as the Great Britain's National Women's Coach from 2007. This role has seen him work closely with Great Britain's Federation Cup team and players like Laura Robson (Career high WTA rank #27) and Heather Watson (current WTA rank #38 and the 2015 Hobart International champion). Before moving to his role as National Coach,
Damien was the LTA (Britain's equivalent to Tennis Australia) National Strength and Conditioning Coach and brings with him outstanding fitness credentials to support his coaching background. As a player Damien reached an ATP rank of #273 in singles and #152 in doubles before progressing into coaching on the ATP tour working with players including Wesley Moodie (ATP Singles ranking #70 and Wimbledon Doubles Champion), John Laffnie De Jager (ATP Doubles #20), Robbie Koenig (ATP Doubles #30), Chris Haggard and Jeff Coetzee (ATP Doubles rankings of #30). We are incredibly thrilled to have Damien on the Tennis Gear team and believe he, alongside our fantastic coaching team will help make the Tennis Gear Performance program the best in Queensland.