Our award winning Holiday Clinics have never been better or easier to be involved in. We have simplified the costs to one simple cost per day and now have online enrolments open for all of our clinics!  Simply follow the links below, pick which days you are wanting to attend and you will be out on the court in no time!
Enrolments are now open for our popular school holiday tennis clinics. Over the next school holiday break we are offering a range of fun filled tennis clinics.  School Holidays are approaching fast. We have scheduled separate clinics to cater for students of all ages and standards over the holiday period. To enrol into any of our fantastic holiday clinics simply follow the links below.
These holidays we are also pleased to announce several changes to our Holidays Clinics which we feel will make it even easier to enrol and be apart of the fun.
We are now offering a Half Day Clinic from the 11th – 22nd December which will run from 8:00am – 12:00 pm.
If you enrol before the 12th November you receive an Early Bird Discount of $10/day
If you enrol for 5 days or more across any of the 3 weeks in one single enrolment you receive a discount of $10/day.
You can now enrol into clinic days across all 3 weeks in a single enrolment.
HOT SHOTS CLINICS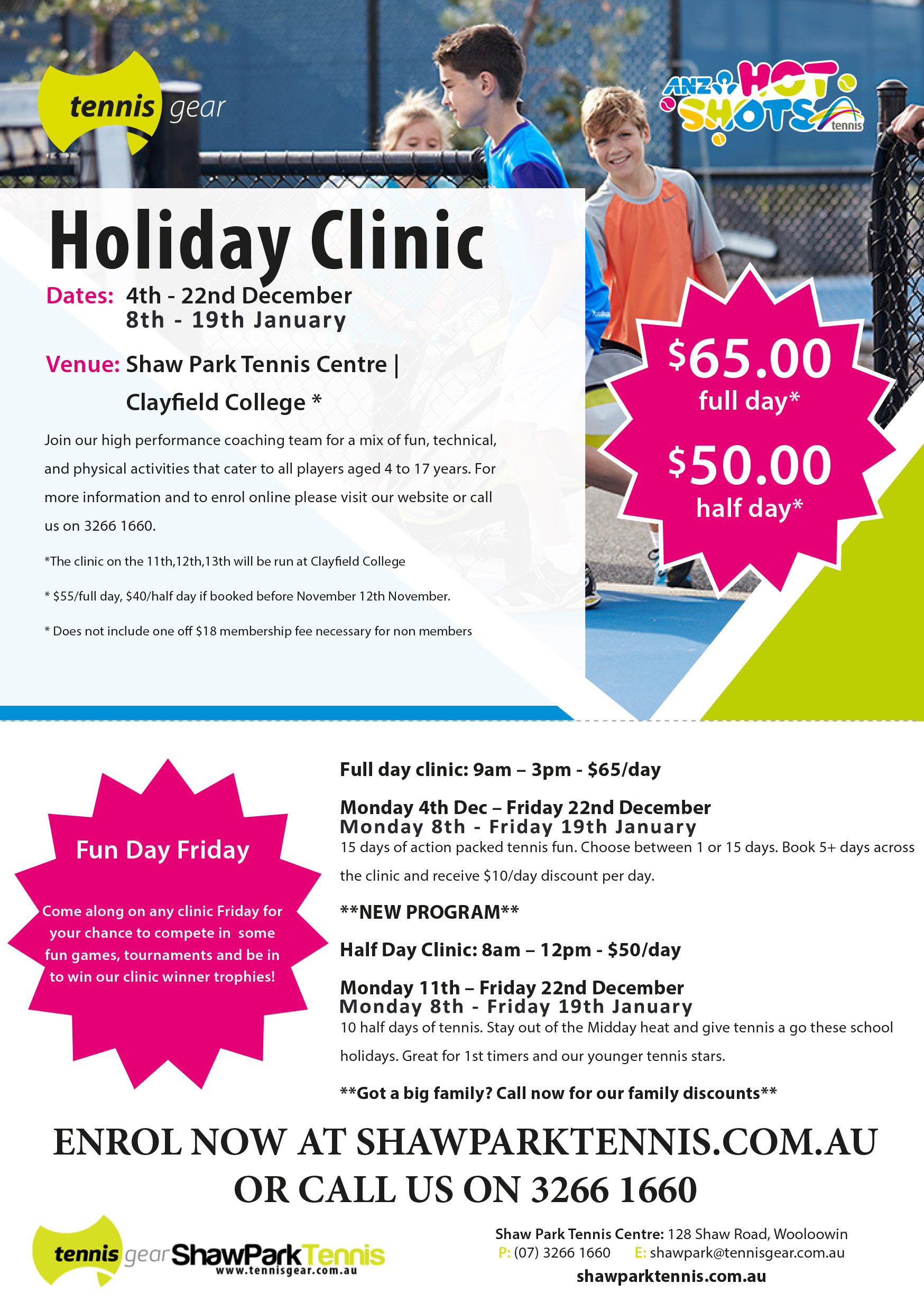 DEVELOPMENT AND PERFORMANCE CLINICS
These holidays Shaw Park is also pleased to announce we will be running a Development Clinic and Performance Clinic over the holidays. This clinic is ideal for any High School or Super League players or players looking to prepare for upcoming school tennis seasons.  These clinics will include tennis specific strength and conditioning sessions, mental skills training, technical and tactical based drilling and lots of match practice.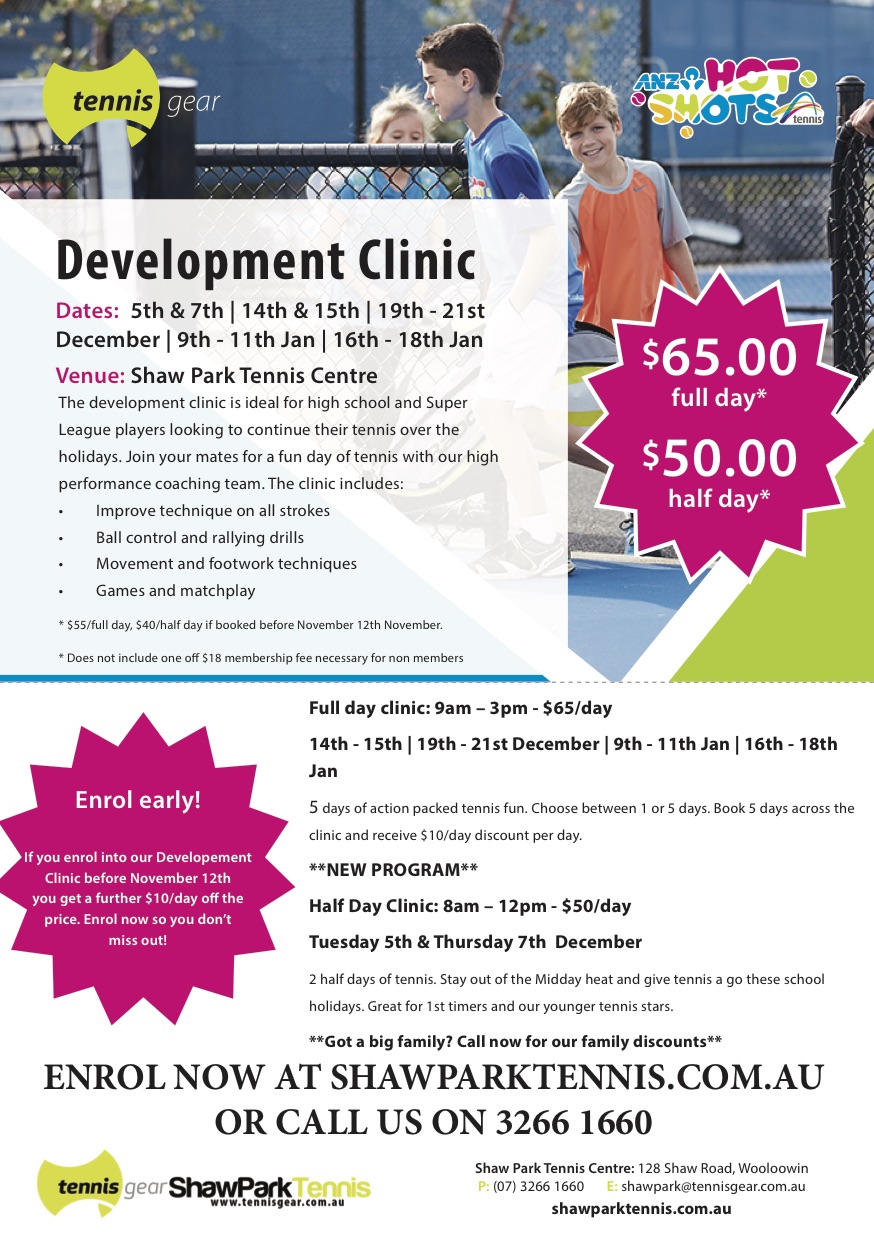 Brisbane International Clinics
Come and see the worlds best at the Brisbane International with TennisGear.
Held at the Emerson Tennis Centre our experienced and dedicated team will host a morning session on court before jumping on the train at Milton train station to spend the day at the Queensland Tennis Centre. Come and enjoy all that this world class event has to offer including kids arena & activities, meet n greet and of course the opportunity to watch and meet the worlds best players.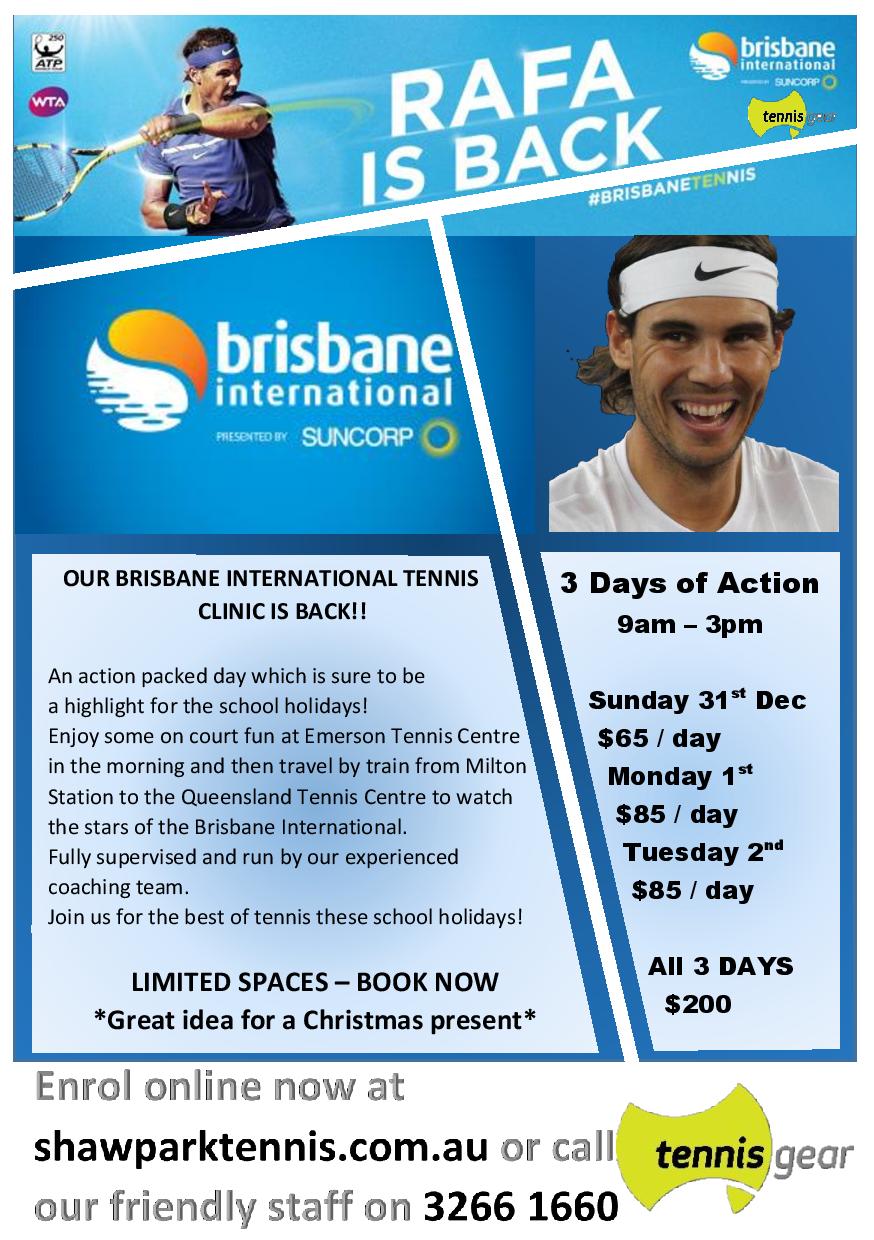 SHAW PARK TENNIS CENTRE CLINICS
The Shaw Park Tennis Centre has a number of Holiday Clinics that specialize in Tennis fun for kids.  Our clinics are designed to fit in with your busy holiday schedule.  Our qualified coaches will be conducting a range of fun, learning activities including: on court coaching, technique, motor skill development and physical training.  It also allows our junior tennis players to play all year round
The Hot Shots Tennis lessons allow all players to learn with modified tennis racquets, balls, and court sizes that are appropriate for the ages and sizes of the children involved.  Hot Shots tennis lessons apply a "learn through play philosophy".
Our senior coach, Dom Andrew, organises the Holiday Clinic Tennis Session themes each day to facilitate learning, fun and participation.  The clinic themes are designed to give all players a taste of what tennis is all about.  After a busy morning where learning and development is the focus, playing the game of tennis is dedicated to the after lunch sessions.  All players will be able to participate in a singles and doubles tournament in the afternoon and the younger players will be involved in a fun mini tennis Olympics!
Students are required to bring their own morning tea and lunch – as they would at school. We recommend bringing a large water bottle, hat and sunscreen.  Trophies, awards and prizes will be given out during the final day in a short awards presentation.
The holiday clinics have proven to be very popular, and enrolments will be taken on a first come, first served basis.  Everyone is welcome, so please feel free to invite a friend who has not played at one of our Tennis Clinics before.  Whether your child has played before, or just trying tennis for the first time, our coaches will be able to find a suitable group of children of a similar ages and ability.
Age: 4.5 to 17 years of age
Time: 9am to 3pm
Pricing:  $65/ day
For more information or to enrol into one of the clinics please do not hesitate to contact us  3266 1660.