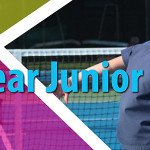 Make

 

Up

 Day – Week 5
We've set the date for our next 
make

 

up

 day this term for your tennis coaching classes:
Sunday 5 November 2017
Book in now for our SHaw Park Tennis Coaching Week 5 
Make
–
up
 Day to be held on 
Sunday 5 November
.
Classes are available for our 
Hot
Shots
 Tennis Coaching students tha
t have missed a lesson this term and would like to 
make
 it 
up
.
Booking your place is ESSENTIAL

. 
Class times are as follows:
BLUE BALL             Kids aged 4-6 years                       9 – 9.45 am 

RED  BALL              Kids aged 6-8 years                       9 – 9.45 am
ORANGE BALL       Kids aged 8-10 years                     

9.45 – 10.30 am
GREEN BALL          Kids aged 9+ years                        

10.30 – 12.00 pm
HOT SHOTS LEAGUE                                                     10.30 – 12.00 pm
Extra Information on Hot Shots Tennis Coaching in Brisbane
Hot Shots Red for 4 to 5 year olds
A fun introduction to ball skills, basic athletic and coordination skills which are the essential foundations for tennis.
Hot Shots Red Plus for 6 to 7 year olds
Played on a smaller court, at this early stage the emphasis is on developing the core tennis skills whilst taking part in lots of fun activities, short matches and team competitions.
Hot Shots Orange for 8 to 9 year olds
Played on an 18 metre court using a slower orange ball, children begin to develop an all-court game, using more advanced tactics and techniques. Competition includes slightly longer matches, played both individually and as part of a team.
Hot Shots Green for 10 to 11 year olds
At this stage, children will be able to cover a bigger court using a green ball. We emphasise continued technical and tactical development using increased power and spin, as well as specific athletic skills.
Shaw Park Tennis Team
P   07 3266 1660
A   128 Shaw Road, Wooloowin QLD 4030
E  

shawpark@tennisgear.com.au

www.tennisgear.com.au

This electronic mail and any attachment(s) contains information that may be privileged, confidential and/or subject to copyright, and that is intended only for use of the individual or entity named. If the reader of this message is not the intended recipient, you are hereby notified that any use, disclosure, distribution or copying of this communication is strictly prohibited. If you have received this communication in error, please notify the sender immediately and permanently delete all copies of it. We use virus scanning software but exclude all liability for viruses or similar in any attachment.