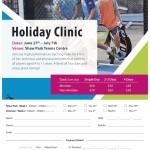 Junior Tennis Clinic
Join the fun these school holidays! Book your spot
Get on top of your school holiday planning early and book the kids in for our upcoming tennis clinic. They will enjoy a full day of tennis from 9am-3pm developing both technical and tactical areas of their game. With plenty of fun and games thrown in, they will be begging to come back again the next day!
These holidays Shaw Park Tennis Centre will be offering a 4 day clinic from Mon to Thurs June 27th to 30th. Holiday clinics are the perfect way to get some additional practice over the break and keep the kids entertained. They also act as an excellent introduction to the sport for those who have never played before. We cater for all levels of player between 4 and 17 years. Book them in for multiple days and enjoy huge savings!
Click here for our Holiday clinic enrolment form. These can be returned to the centre by email to shawpark@tennisgear.com.au or you can simply phone the enrolment through by contacting 3266 1660.